At Candles, we provide cosy , comfortable air-conditioned accommodation in a homely environment.
We offer you a home away from home, on your soon to be vacation, on this emerald island in the Caribbean sea...called TOBAGO.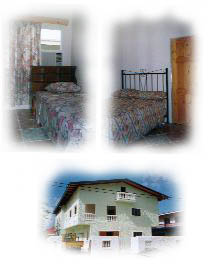 Weather Forcast though www.wunderground.com
Click here to go to our Secured Online Booking Agent
<DIV>Our facilities and rates...

Our eight (8) Bedrooms are each provided with an en-suite toilet/bath, hot/cold water, cable television, built-in cupboards, air-condition and ceiling fans. Microwaves. Toasters. Electric kettles. Coffee percolator...and a generous assortment of cutlery and utensils. We have also provided a large capacity washer and dryer in the Laundry area that is available for your free usage.

OUR OBJECTIVE AT "CANDLES" IS TO ENSURE THAT YOU HAVE A COMFORTABLE AND MEMORABLE STAY ON OUR BEAUTIFUL AND ENCHANTING ISLAND OF TOBAGO.



RATES..----

Single Person..........................US $ 40.00 / Night

Double Occupancy..................US $ 65.00 / Night

(Additional person in same room,....... US $ 25.00) Children under three (3) years- FREE.

In addition to the above Room rates we now have added twenty- two (22) single beds at US$25.00 per bed space in our Mixed Attic Dormitory at Candles in the wind, ideally suited for Backpackers.

The two washroom facilities in the Attic are shared while use of the fully equipped kitchens on the other floors are available together with self-serve laundry services.

Dormitory style accommodation for Backpackers DOES NOT get better than this.

You can also enjoy Paradise while on a shoe string budget.



All the above accommodation Rates will attract a further 10% Gov't Tax. / Rates subject to change.



WE LOOK FORWARD TO MEETING WITH YOU.

Book your reservation here

On your arrival, we can meet you at the Airport and provide transportation to the Guesthouse at a cost of US$ 10.00. per return car trip.





Things to do...

During your stay with us, we recommend some of the following;

A lazy stroll along the pristine beaches of nearby Store Bay, Pigeon Point or one of the many others around the Island's coastline.

A journey on a "Glass bottom boat" towards the Famous Buccoo Reef and Nylon Pool.There you can snorkel among the hundreds of tropical fishes, observe the huge "Brain coral" (in Speyside) and other Marine life.

Ride the surf at Mount Irvine beach and maybe have a chat with another International Surfer like yourself.

Trek through the Lush Rain Forests and discover the Flora, Fauna and waterfalls of the Island.

Dive into the clear Caribbean waters off Speyside or Charlotteville and encounter the gigantic but gentle Manta Rays. Swim with them while being escorted by a kaleidoscope of other Tropical fishes darting in and out of your path.

Maybe you wish to flex your arm and putt that golf ball way across the greens to the next hole. Care to do so on one of our Championship Courses? See you on the greens.

If nothing else, you must include among your luggage your suntan lotion, swim wear and snorkels.

We can easily provide / arrange Bikes or Vehicles rentlsl at nominal rates for your tours along the quiet country roads.

While on the island, don't hesitate to sample the local cuisine which must include our delicious, ever popular "Crab and Dumpling".

MOST OF ALL,...abandon time and savor the enchantment that Tobago has to offer.



WE LOOK FORWARD TO ACCOMMODATING YOU AT ....."CANDLES...in the wind"





HISTORY OF TOBAGO



An outline and history of our beautiful island of Tobago.

Tobago was settled over 2,500 years ago, by Amerindians moving north from the South American mainland. Tobago's close neighbor Trinidad was actually still attached to South America up till 10,000 years ago and consequently the diversity of wildlife on the mainland is still evident on the two islands - over 260 species of birds breed in Trinidad and Tobago. Europeans first reached these islands in the form of Columbus on his third transatlantic voyage in 1498. Tobago was "discovered" by the English in 1508 and, as was the case for most islands in the Caribbean, it was then fought over by the Dutch, Spanish, English, French and settled by Latvians and Buccaneers (and some others) well into the 18th Century. Bloody Bay, Pirates Bay, and Man o' War Bay bear testament to this past. The English controlled the island from 1762 with hiccups from 1781-1793 and

from 1802-1803 when the island fell under French occupation. It was officially ceded to the English in 1814.

In 1962 both Trinidad and Tobago gained independence from Britain and finally became a Republic in 1976. Tobago is now almost wholly dependent on Tourism - quite understandable considering the tropical naivety that pervades the island and the straightforward, genuine, unaffected friendliness of its people.

Tobago is a stunningly beautiful tropical island just 26 miles long and 8 miles wide (42 by 10 kilometers) and 10 degrees north of the equator, with a rugged, craggy coastline, deserted palm-fringed beaches, enchanting coral reefs and a wealth of protected rainforest. With no heavy industry, very light development and only a handful of all-inclusive resorts, Tobago has remained exceptionally natural and un-spoilt. The Tobagonians are deeply religious, have pride in their culture and heritage and are extremely friendly and welcoming, making Tobago a very safe island to explore.

Tobago beckons you.

</DIV>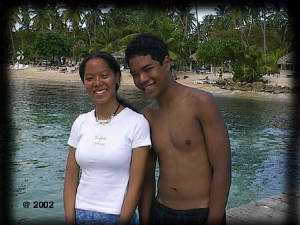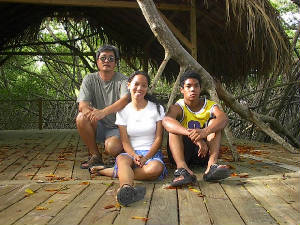 "Candles....in the wind " is a newly established family run Host home accomodation located on the Enchanting island of Tobago in the West Indies.

"Candles...in the wind" is dedicated to my daughter, CANDice and my nephew MyLES.
They are both free spirited youths who were born in 1987 and 1988 respectively.

They are my inspiration.

My name is Andrew Leekit.
I have retired from a Major Banking
Establishment in 1999 after having served twenty eight years at various levels of the Organisation.
I am available to meet and greet you on your arrival to our beautiful Island....Tobago.

After having spent most of my time working in the field of Finance , I have rediscovered the simple things in life.
I have set up "shop" on the Enchanting Island of Tobago so that you too can join me in a relaxed atmosphere , unwind and abandon time.

You will thoroughly enjoy your stay at "Candles...in the wind" while discovering the enchantments that Tobago has to offer.